Liquidroom & Ostgut-Ton present  FUNCTION "INCUBATION" Album Release party with Special Guest NOBU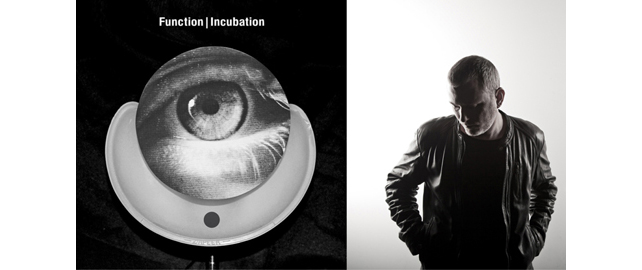 START

-
ADV

adv ¥2,500[limited to 100]
DOOR

door ¥3,500[with flyer ¥3,000]
LINE UP

featuring
FUNCTION(Ostgut-Ton/Sandwell District) – 3hours set –
NOBU(FUTURE TERROR/Bitta) – 3hours set –
Lighting:YAMACHANG
TICKET
INFO

LIQUIDROOM 03(5464)0800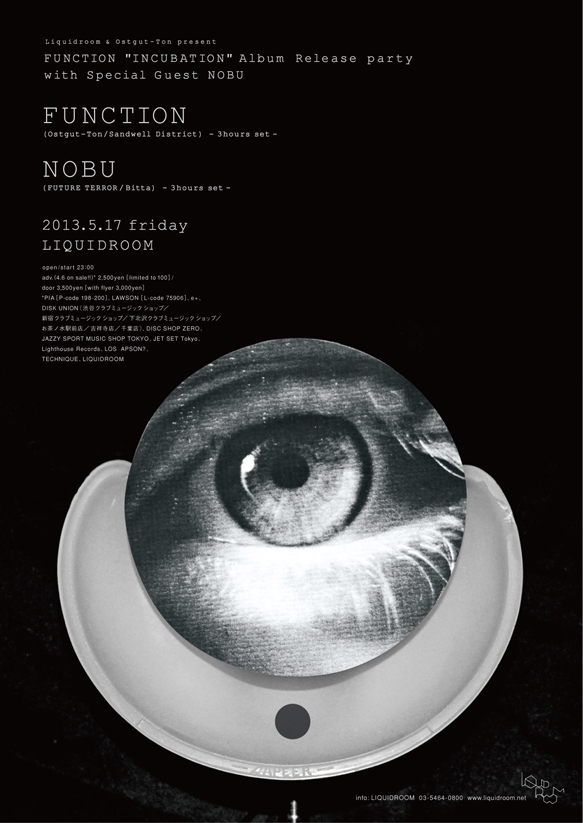 FUNCTION x NOBU、強烈なる電子音の進撃を体感せよ!
現テクノ・シーンの最重要アーティスト、FUNCTION来襲!
▼FUNCTION(Ostgut-Ton/Sandwell District)
テクノ界の真のアンダーグラウンド・ヒーローと呼ぶべきファンクションは、DJ及び音楽制作を15年以上続けている。ニューヨーク出身の彼は、90年代前半に〈Limelight〉でレジデンシーを持っていたジェフ・ミルズのプレイに魅せられ(後に自身も同クラブのレジデントとなる)、音楽を作り始める。Damon Wildの〈Synewave〉や自らの〈Infrastructure〉から作品を発表。その後Regisと共にPortion Reformを結成し〈Downwards〉からのリリースを果たす。2008年にベルリンに移住してからは、Regisと共同制作を続けながらSilent Servantも加入し、Sandwell Districtとしての活動に注力し、カルト的人気を獲得。日本でもLabyrinthの常連として絶大な支持を得ている。そして今年3月、待望の初のソロ・アルバム、『INCUBATION』を〈Ostgut-Ton〉から発表したばかり。
One of techno's true underground heroes, Function (Dave Sumner) has been DJing and making music for over 15 years. Hailing from New York, he was seduced by techno music when Jeff Mills held a residency (as well as his own first) at the Limelight in the early 90s. Dave started to produce music and from the mid-90s onwards, put out music on Damon Wild's Synewave and his own Infrastructure imprint. Together with Regis (Karl O'Connor) he worked as Portion Reform, putting out uncompromising music on Downwards and becoming the only non-Birmingham producer to release on the label. In 2008 Dave moved to Berlin, still working with Regis, and now Silent Servant (John Mendez), put his focus on the acclaimed Sandwell District imprint. Since, the label, now come collective, has skyrocketed into cult status. Among the fans in Japan, he is also known as a frequent guest at Labyrinth festival. Function has just presented his debut album 'Incubation' on Ostgut Ton in March 2013.
http://ostgut.de/booking/artist/function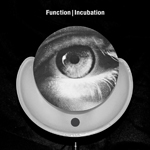 アーティスト:FUNCTION
タイトル:INCUBATION
OTLCD1911/OSTGUTCD24
Now on Sale

レビュー・ページはコチラから。




▼NOBU(FUTURE TERROR/Bitta)
2001年 から地元千葉で主宰しているパーティFUTURE TERRORにより、全国 のパーティ・フリークスたちの圧倒的な支持を集める。2006年に初のオフィ シャル・ミックス CD『No Way Back』をリリース。2008年にはDAZZ Y DJ NOBU名 義で待望のアルバム『Diary』を発表。2010年にはマルセル・デットマンに招聘され、初の日本人DJとして〈BERGHAIN〉 出演を果たす。2012年4月 に自身によるレーベル"Bitta"(ビタ)を始動。そして2013年3月末、2年振りとなるオフィシャルミックスCD『Dream Into Dream』をリリースしたばかり。
DJ Nobu's name started to circulate among the serious party freaks in the country from the party Future Terror which he has been running in his home town of Chiba city since 2001. In 2006, he released his first official CD "No Way Back." Two years later he produced his original full length "Diary" with a partner as Dazz Y DJ Nobu. In 2010, he was invited by Marcel Dettman as the first Japanese DJ to play at Berlin's renowned club "Berghain." He then moved on to found his own label "Bitta" in April 2012. He has just released his new official mix CD "Dream into Dream" recently.
http://futureterror.net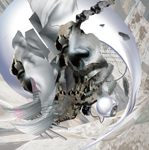 アーティスト:NOBU
タイトル:Dream Into Dream(Crustal Movement Vol.1)[MIX CD]
NFCD-27349
Now on Sale